How did your collaboration with the Imperial War Museum and HMS Belfast come about?
Back in 2012 at around the time of the London Olympics, I created a lot works based on the things that people see and walk past in London - statues for example - things that people walk past and often ignore. They're so visible that they're invisible. HMS Belfast seemed to me to be one of those things. It's loved, don't get me wrong, but it's visible and invisible at the same time. I wanted to bring it more to people's attention, especially the history of the boat. So at the time of the Olympics, just after the Queen's pageant of boats, I photographed HMS Belfast and painted over it (pictured, below). I aged the boat, I made it look rusty, and I surrounded it with graphic, cartoon-like drawings – drawn images of planes from the time of the Korean War, which was a major event in the life of the boat. One of the curators [at the Imperial War Museum] saw the piece and was interested in it, particularly as it's an unusual thing to be doing as a contemporary artist. They then approached me to do a show on the HMS Belfast and at the Imperial War Museum (IWM).
How did you decide to approach the HMS Belfast commission? What were your thought processes behind it?
There was one aspect of the boat which I always found odd and surreal. The mannequins, the figures - you have them throughout heritage centres demonstrating everyday tasks. On HMS Belfast there are cooks, there's a guy in the post room, there's the captain talking to a second lieutenant…They're all quite retro-looking and were made, I'm guessing, in the late seventies. I was drawn to them and you get a sense of what life was like as a member of the crew. These guys would operate from boredom, sometimes, to a complete 'shadow of death' scenario, to put it crudely. It's a very intense environment.
I was also interested in the boat's history. On its last journey, HMS Belfast left Singapore. It travelled through the Panama Canal and then it went to Trinidad in 1962, just before independence and three months after Carnival. It also passed through Jamaica at the same time as Jamaican independence and six months, or thereabouts, before the Cuban Missile Crisis. The tension around the Cuban Missile Crisis was building to a crescendo. It was a very particular point in time and I wanted to imagine that these guys, the mannequins, are arriving for Carnival - they haven't missed it - they're just about to arrive. I wanted to play that as a fiction, an alternative reality.
You've used imagery of skulls throughout The Tourists - in the tattoos you have painted onto the mannequins and in the costumes you have dressed them in. They seem to refer to the fragility of life on the ship and the foreboding sense of danger and death, which you mention.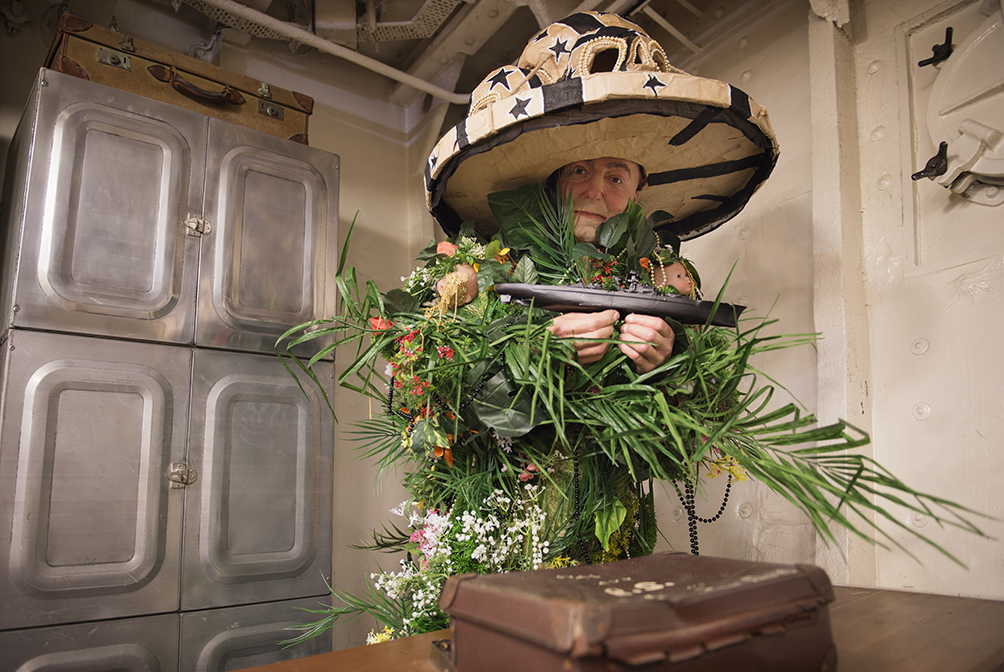 Yes, that's where they come from, but more than that. The skulls relate to Trinidadian tradition. Some of the skull hats [worn by the mannequins] relate to traditional Trinidadian costumes - in particular, a character called 'Midnight Robber'. He's in every Trinidadian carnival. He goes around in a skull hat and skull outfit and he basically spouts half gobbledygook, half biblical stuff, half apocalyptic stuff. He's quite a seminal character; very strange and dark, but then entertaining at the same time. Another really popular character is 'The Sailor', with different costume variations and sub-groups which go back to the 1880s and are inspired by the British, French and American sailors that used to visit.
You use masks throughout the intervention. How does this link to the themes of identity and the history of the British Empire you explore in earlier works?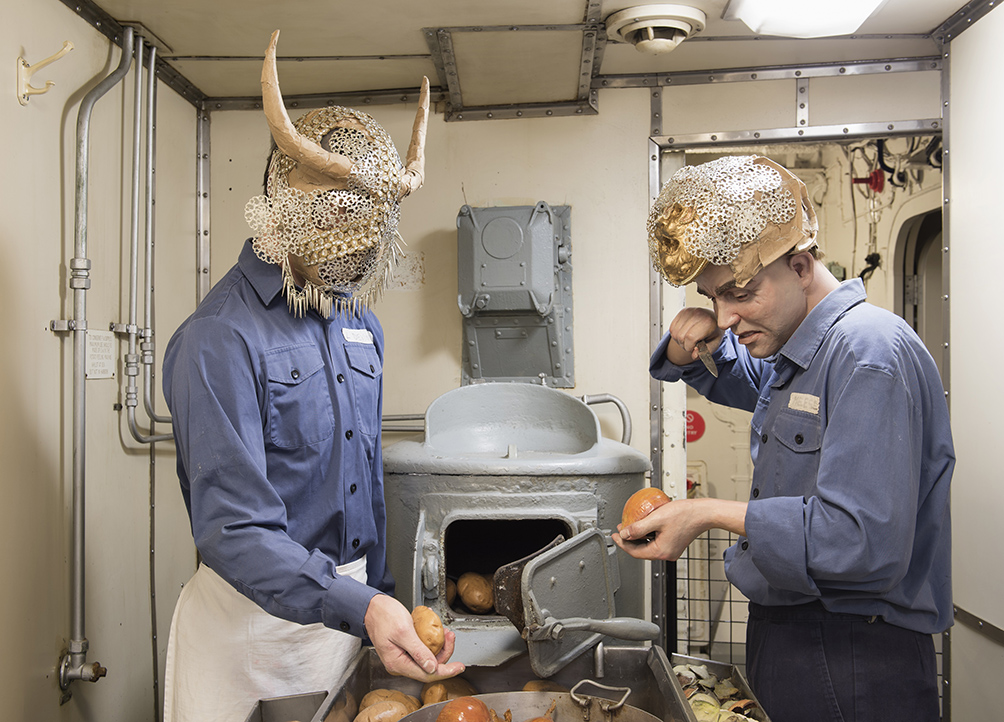 It does link to earlier work I've done. Some of the masks link to a series of photographs I did in which I appear dressed up in wild costumes. Those were about identity; how one is perceived or how I have been perceived in the past, or how the work has been perceived. It's about playing with ideas of exotica. That hasn't changed, that's still an ongoing interest. It's [The Tourists] about that, hence the title The Tourists. It's a double-edged meaning because these guys are tourists, they're tourists on a big gun ship. And ideas about colonialism - that's definitely part of it. It's about talking about a particular period of time, something that I would like to think has relevance today.
What is the significance of the boat motif? Replicas of ships appear frequently in The Tourists and you have used boats in previous works.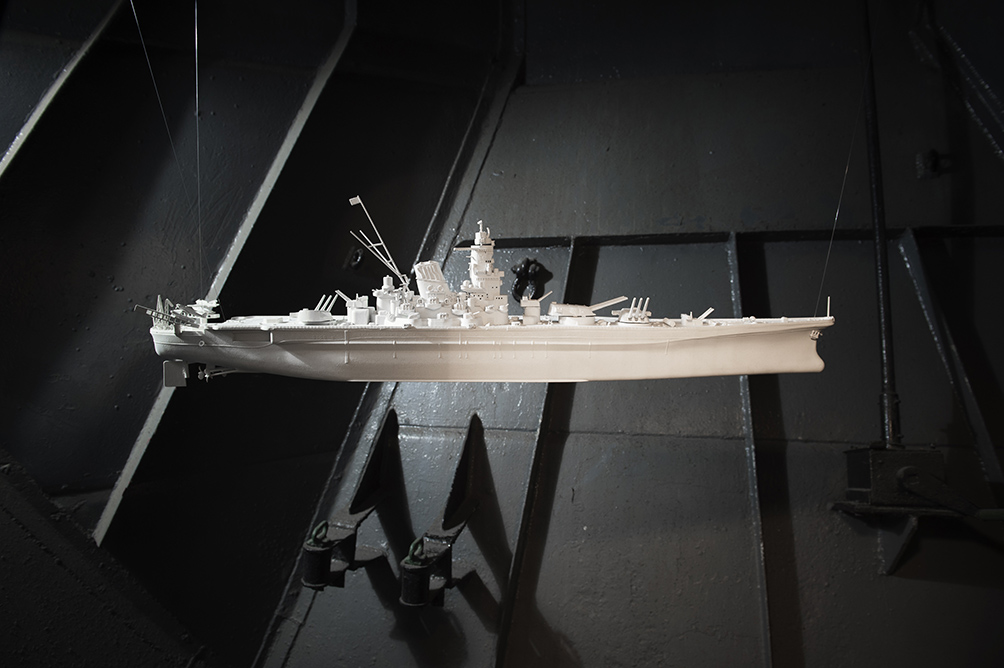 The boat itself is almost like a reliquary [a container for relics]. It's almost a fetish object. Some of it was inspired by votive objects in churches and so I'm interested in the idea of what the boat already is, in itself, if you see what I mean. Boats have appeared in my work for quite a long time. There's the personal aspect of it, of coming here [to the UK from Guyana] by boat when I was very young or going back to Guyana by boat. Also, it's about taking people from one place to another. Boats have more of an impact than planes somehow.
I've been very conscious about what these things mean. In other pieces of mine, like in Acheron [included in Hew Locke's exhibition at IWM], the boat represents the crossing from life into death. Boats are iconic things. HMS Belfast is an icon in itself. But in this show I'm using it not necessarily about itself but as a representation of something much wider and more complex. And in the tattoos [on the mannequins] I'm referencing a wider naval culture. I've given the mannequins full facial tattoos of compasses. The compass tattoo was to find your way home; it was symbolic. The tattoos of crossed guns on two of the mannequin's foreheads - that's part of sailor tattoo culture as well. I also used a lot a tattoos of Arawak [a group of indigenous peoples of South America, historically of the Caribbean] votive objects, as that was part of the area HMS Belfast travelled through.
You often reference the cultures and traditions of other countries in your work. Can you say a bit about the artistic traditions that inspire and interest you?
In the HMS Belfast piece, I've looked not just at carnival costumes, but also at traditional African costumes, often from the Democratic Republic of the Congo. I'm inspired a lot by Songye carving and fetish objects. I also mix that up with and take influence from religious relics, such as the shrines of saints covered in jewellery and gold that you find in churches in Italy or Mexico. In fact, one of my main influences - where this obsession first started - was years ago I went to Seville and I saw the Macarena. The Macarena is beautiful and her dress is completely encrusted with jewels and offerings. That in particular is why some of the costumed mannequins look the way they look [on HMS Belfast], such as the dentist, who wears a gold headdress with a skull, gold and jewels.
For me my career's been a bit like being a fishing trawler, with the net getting heavier and heavier and the catch being all the experiences I drag along with me. But it all comes back essentially to the Caribbean. It's all filtered through the views of somebody who grew up in Guyana. I used to refer to my work as being a form of invented culture. That's why I've worked a lot with ideas of national identity and race, as well as personal identity. What symbols do we pick to represent ourselves as a nation? HMS Belfast is one of these symbols. It's not just a boat, it stands for something more than what it is; it links to sovereignty, links to history, links to ideas of belonging. The work I make is not simple, it has layers of meaning. When developing the HMS Belfast piece, I'd put the costumes on the figures and it would reveal something else to me regarding what it was about.
You tend to use inexpensive materials in your work, for example on HMS Belfast, you use plastic beading and plastic flowers. Why do you choose to work with these materials?
I like these materials. I like the fact that they're available to everybody, I like the fact that they're viewed to be throwaway. I like the fact that, say, a cheap gold ring tries to look like an expensive gold ring, so no matter how poor you are, you can buy it and look good. I've seen fashion designers start to produce designs which imitate something cheap and throwaway, only it's made with very expensive materials. That's really quite interesting for me.
It started in the late nineties. I'd go through pound shops and think, "That's really interesting, that's quite nice," but I had no reason to do work in that way at the time. I'd stopped working in colour for a few years from about 1997-2002. People would look at my work and say, "What carnival are you making this for?" or, "I like that, there's this really great temple I went to in Nepal", and I'd think "Oh no, no". So I abandoned colour and I started working in monochrome. Eventually, slowly but surely, I decided to work in colour again and I started using cheap materials to make fake, knowing exotica to counteract the comments. That dealt with my whole problem of representation and how others perceived my work. It continues to this day and has become my practice. I love taking this cheap material and making it look expensive, treating it seriously. It's not kitsch for me. People dismiss it but I'm going to give it some respect, some well-deserved love. Sometimes it's a fine balancing act.
When it comes to the wicker work I incorporated in the masks on HMS Belfast – it looks cheap, but then somebody has taken the time to make it. I suppose one of the ideas behind this was to make costumes that these guys could have made themselves to go to Carnival. But then things got complicated. Here's me making things which I know look deliberately retro but also look ethnographic. Here's a black artist making ethnographic masks for white mannequins to go to Carnival. What am I doing here really? The whole thing became a weird, multifaceted riddle within a riddle.
What are your plans for The Tourists? Will it have a legacy or lifetime beyond HMS Belfast?
That's a very good question, I'm still thinking about that. When it comes away from the boat, when the masks come off the figures, then the piece changes. I'm just thinking that through right now actually. Of all my works, this is the most specific to a particular place. For Those In Peril On The Sea - suspending boats in the ceiling of a church – that's not a radical intervention. I was able to move it to new venues. But the HMS Belfast piece, that's a different level of operation. 
Find out more and browse related images

The Tourists is exhibiting on HMS Belfast until 7 June 2015. IWM Contemporary: Hew Locke ran from 19 February to 4 May 2015 at the Imperial War Museum, London. Find out more on the Imperial War Museum's website.
Over 150 images of Hew Locke's art can be browsed and requested online through Artimage. In addition to supplying images, we can also clear the copyright for your reproduction through DACS' Licensing service. In addition to artworks, you can also find portraits of Hew Locke by Nicholas Sinclair. Browse a selection of related images below.
HMS Belfast, 2012: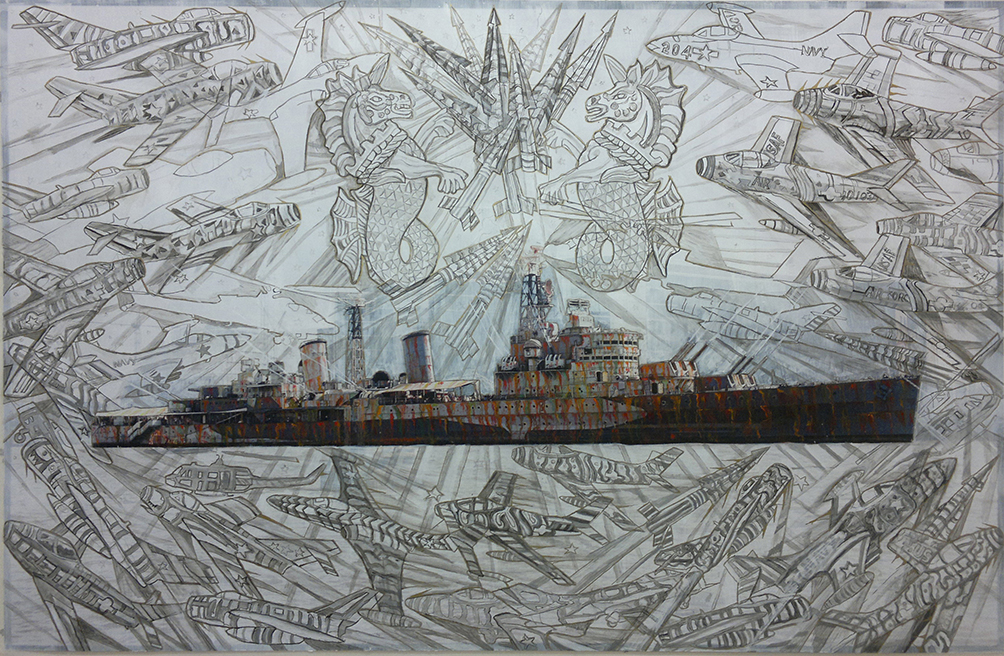 Congo Man, 2007. Part of Hew Locke's How Do You Want Me? series: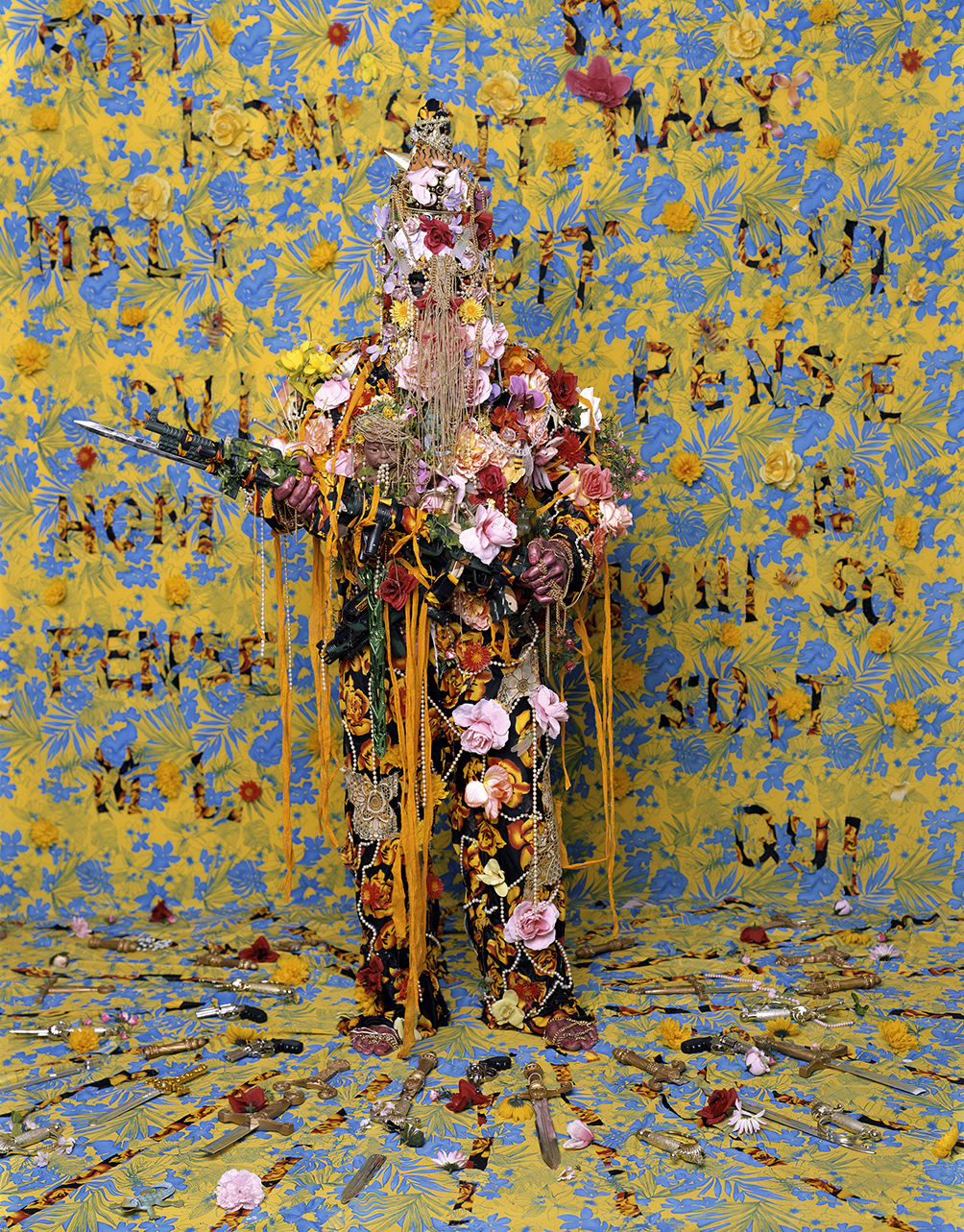 View more images like this

For Those In Peril On The Sea, installed at the Church of St Mary and St Eanswythe for Folkstone Triennial in 2011: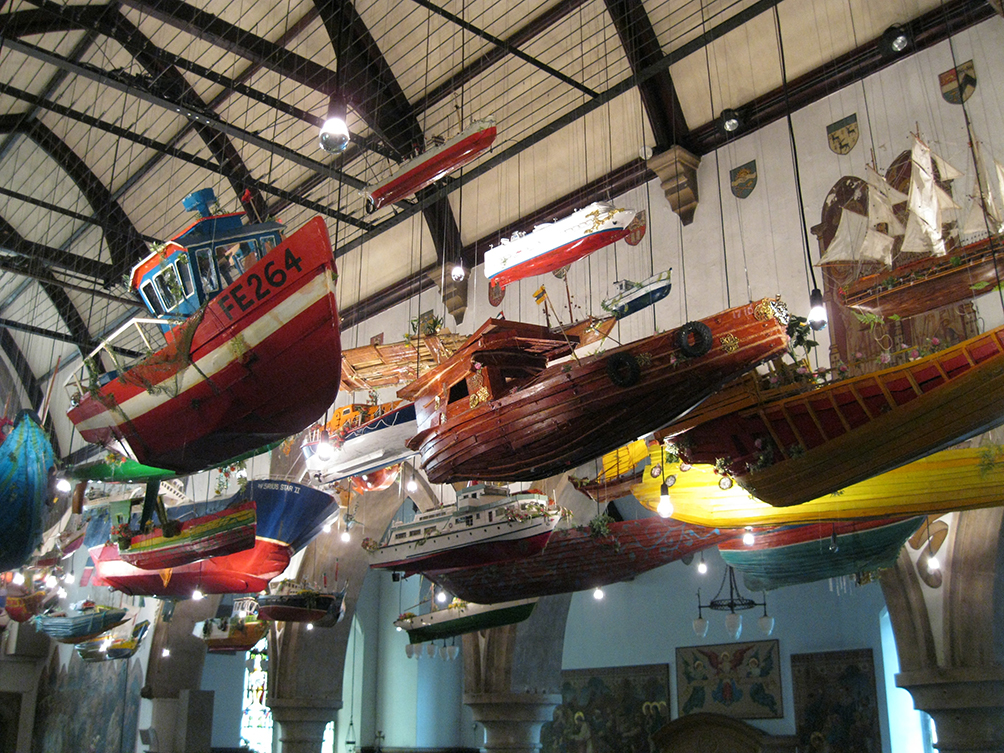 View more images like this

Tanganyika Concessions, 2009. Part of Hew Locke's Share series: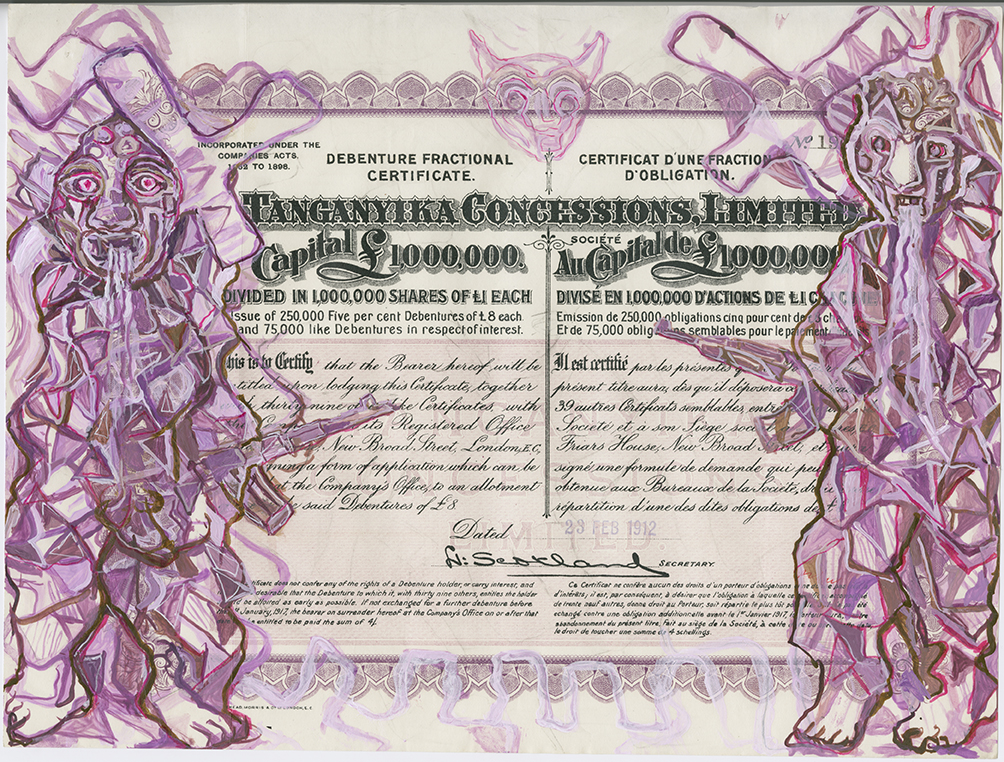 View more images like this

The Nameless, 2011: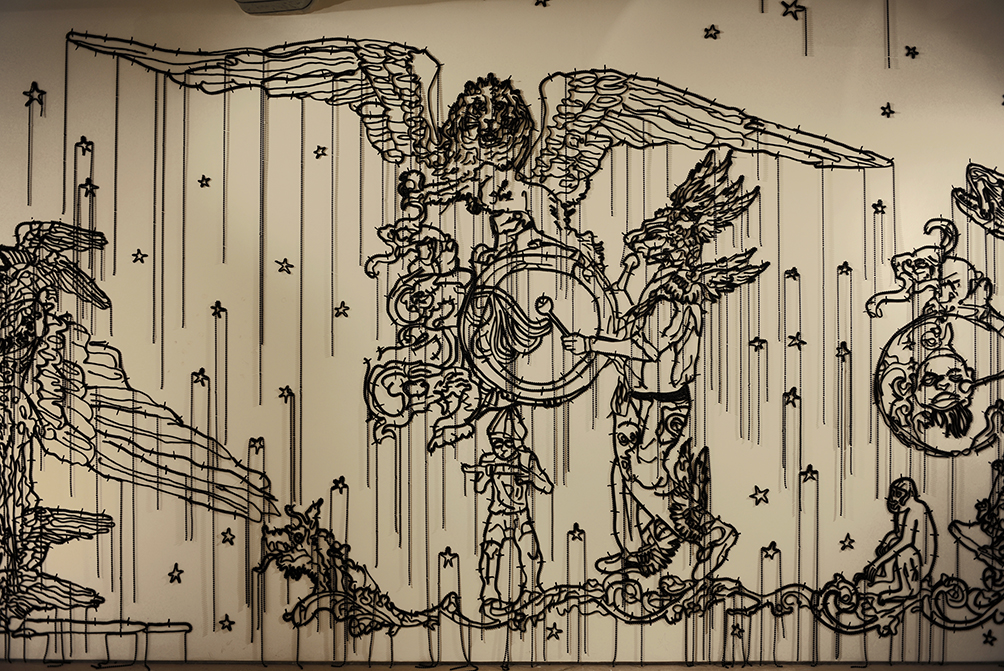 View more images like this

Ark, 1994: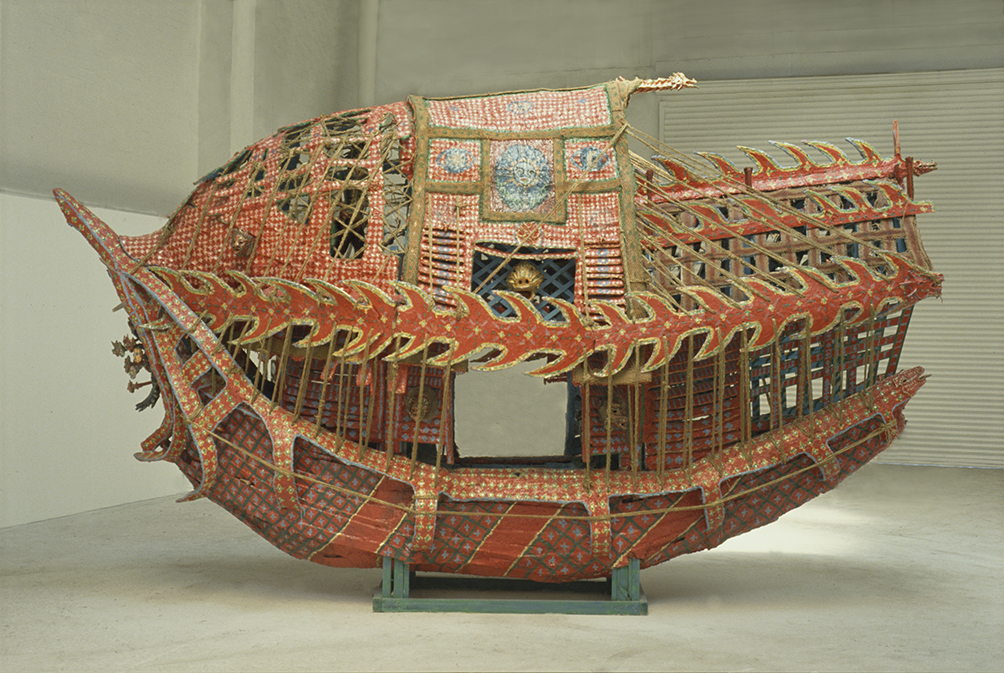 View more images like this

Happy and Glorious, 2003. Part of the House of Windsor series: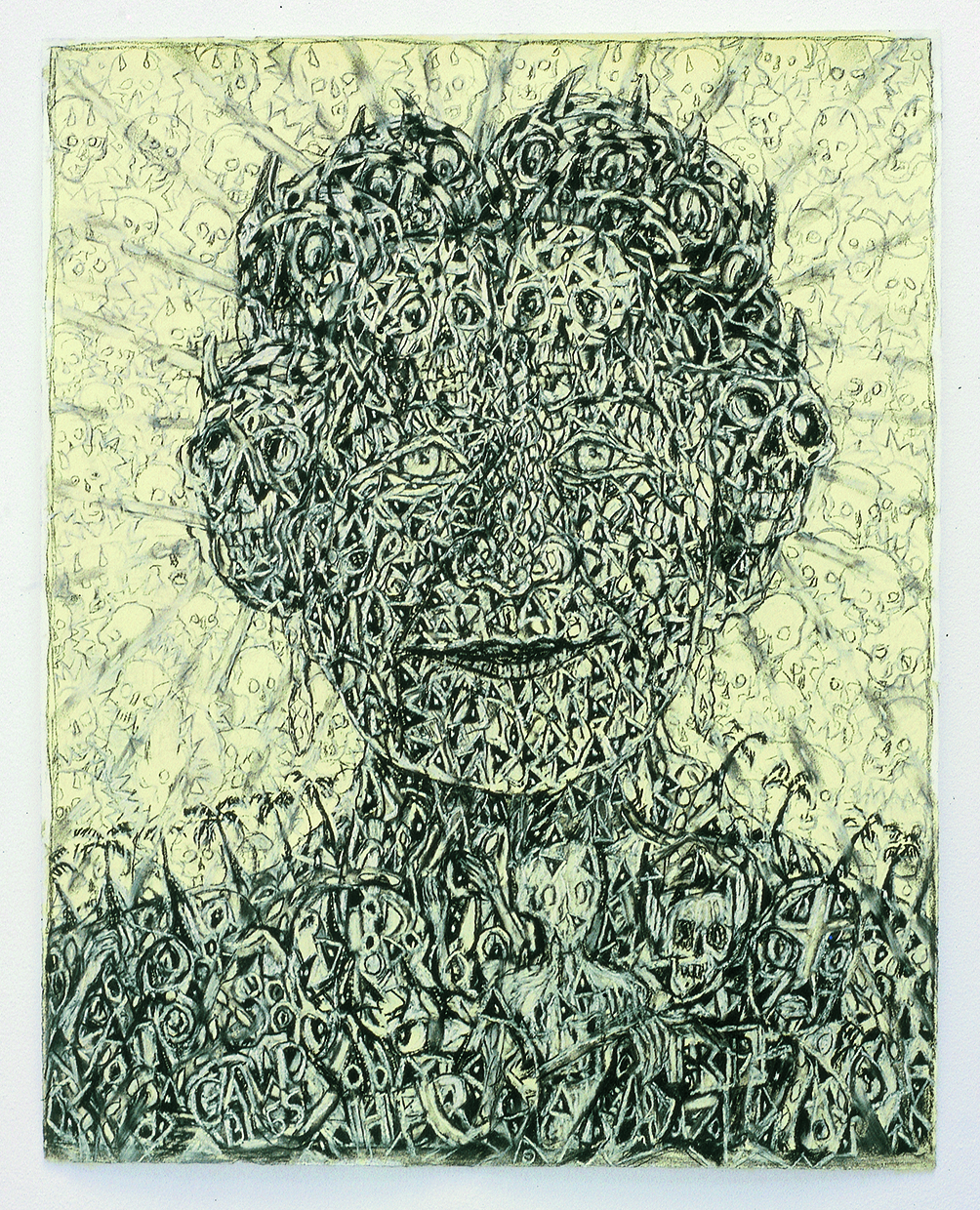 View more images like this

Mount Sinai, 2014: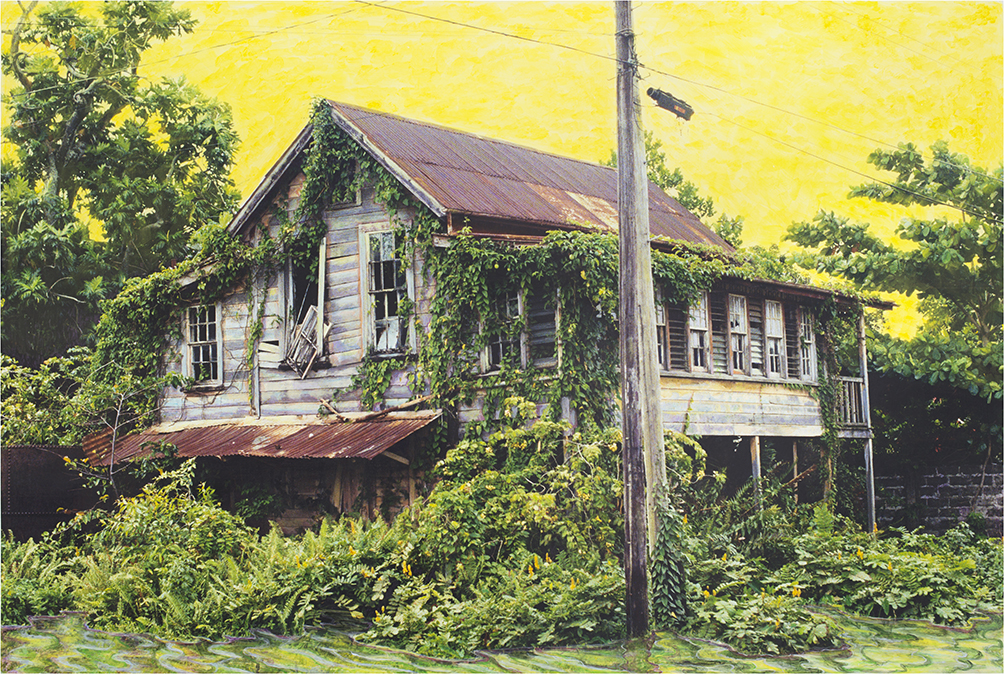 View more images like this

Portrait of Hew Locke, by Nicholas Sinclair: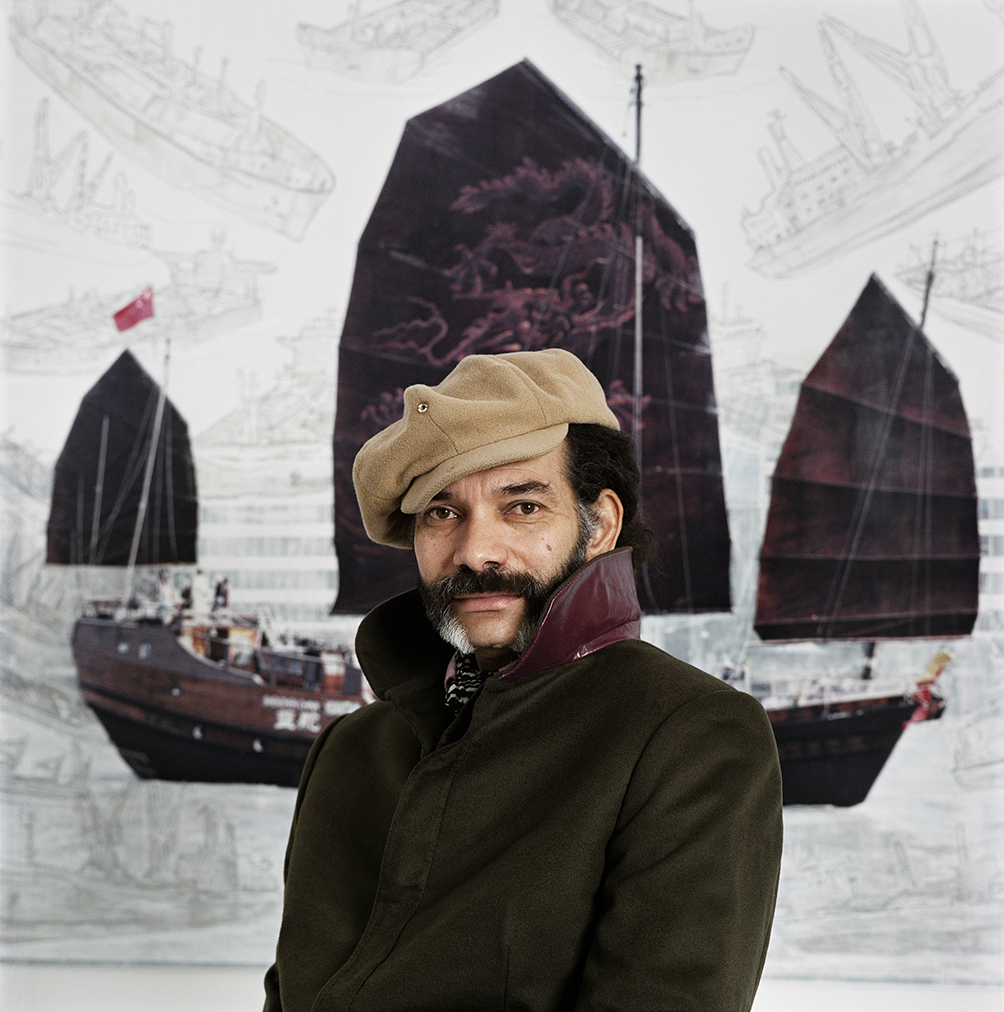 View more portraits of Hew Locke

Useful links:

Related collections:


Image credits from top: The Tourists, Hew Locke © The artist, Photography by IWM, All Rights Reserved, DACS 2015; HMS Belfast, 2012, Hew Locke © Hew Locke, All rights reserved, DACS 2015, Photo: Indra Khanna; Congo Man, 2007, How Do You Want Me? series, Hew Locke © Hew Locke, All rights reserved, DACS 2015, Photo: Rik Pinkcombe; For Those In Peril On The Sea, 2011 (installed in the Church of St Mary & St Eanswythe, Folkestone), Hew Locke © Hew Locke. All rights reserved, DACS 2015, Commissioned by The Creative Foundation for the 2nd Folkestone Triennial, Photo: Indra Khanna; Tanganyika Concessions, 2009. Share series, Hew Locke © Hew Locke. All rights reserved, DACS 2015. Photo by the artist; The Nameless, 2011, Hew Locke © Hew Locke, All rights reserved, DACS 2015, Image courtesy Hales Gallery, London, Photo: Charles Robinson; Ark, 1994, Hew Locke © Hew Locke. All rights reserved, DACS 2015, Photo by the artist; Happy and Glorious, 2003. House of Windsor series, Hew Locke © Hew Locke, All rights reserved, DACS 2015, Photo by the artist; Mount Sinai, 2014, Hew Locke © Hew Locke, All rights reserved, DACS 2015, Photo: Charles Robinson; Hew Locke, 2015, Nicholas Sinclair © Nicholas Sinclair, All rights reserved, DACS 2015.