Working with the artist's studio
Liaising directly with the artist's studio, our team quickly provided Show Media with two new images, previously unavailable online within 1 week. As always, this included the high-quality digital images and all the required permissions.
"An extensive collection of artworks" 
Katie Webb, Picture Director at Show Media, explains why she chose to use Artimage: "I went to Artimage when sourcing images for our Peter Doig feature as they have an extensive collection of artworks in their library and they will sort out the license and fees for you. They respond very quickly and if they don't have an image they will try and source it on your behalf."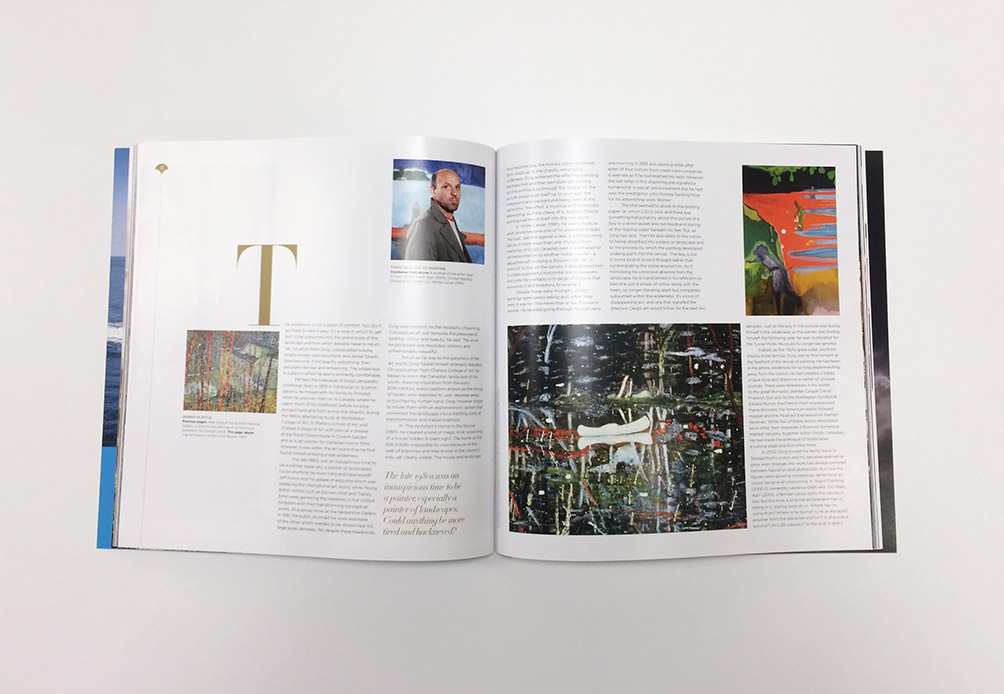 Find out more about Graffiti Magazine
Founded in 1960, Graff is a luxury jewellery designer specialising in diamonds. The latest issue of its biannual Graffiti Magazine spotlights the internationally-renowned British painter Peter Doig and the wild, alluring landscapes of his paintings.
25,000 copies of the magazine were printed and sent to Graff Diamond customers in English and Chinese. Peter Doig's images, White Canoe (1990-91) and The Architect's Home in the Ravine (1991), were used in a five-page feature entitled Strokes of Genius, by George Pendle.  
Read Graffiti Magazine Winter 2016 online.
View all Peter Doig images.
How to license an image
To license an image, log in or register for an account and submit your image request.
Need help? Speak to our team of specialists for expert guidance on finding the right image for your project. Email artimage@dacs.org.uk or call 020 7780 7550.
Images from top: Front cover, Graffiti Magazine Winter 2016, Photo by DACS; 'Strokes of Genius', page 44, Graffiti Magazine Winter 2016, Photo by DACS.