From image request to magazine front cover
The Artimage team helped Haymarket Network find a powerful image that resonated with its readers, discussing options and quickly sourcing and supplying Tim Noble and Sue Webster's high-res image of Toxic Schizophrenia (1997) with a ready-to use license. 

Two versions of the high-quality image were featured on the front and back cover of the magazine's summer 2017 issue, which was distributed to more than 16,000 Chartered Fellows across the UK. 
"Artimage is a real partner to artists and art buyers like me"
Describing the advantages of using Artimage, Dominique Campbell, Picture Editor at Haymarket Network said: 

"It's a real a plus to be able to license and buy images at the same time, and to receive a good quality file which can sometimes be difficult to find for works of art. 

Artimage is a real partner to artists and art buyers like me, and the team is always helpful, even sourcing extra images which are not on the website too."
Why Artimage? 
Artimage's team of experts simplify the licensing process no matter how complex a project and supplies its clients with high quality, artist-approved images. The licensing fees Artimage collects go back to the artists, supporting their work and practice.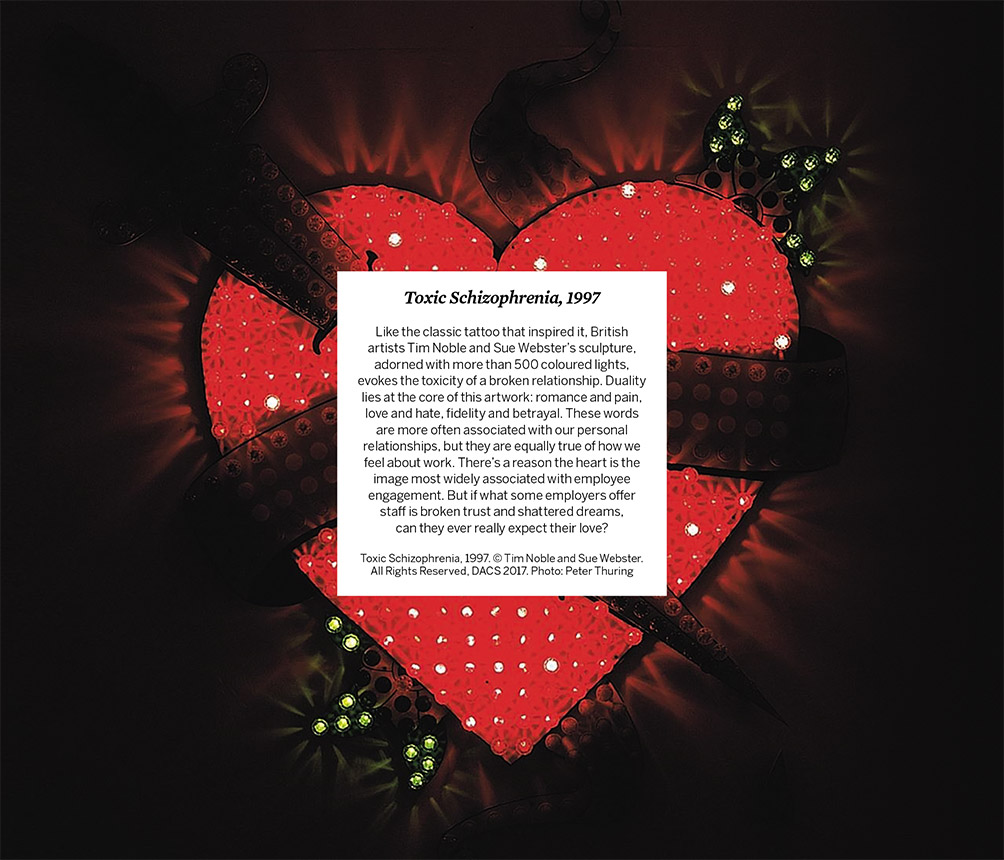 More about Work. Magazine
Work. is the Chartered Institute of Personnel and Development (CIPD)'s quarterly magazine for Chartered Fellows and was launched in May 2014, featuring insightful and challenging articles, mixing leading-edge academic thought with a keen journalistic approach. When the Haymarket Network team called Artimage, it became clear that they needed help finding a unique image to symbolise the complex emotions related with work.
Find out more about Work. Magazine here
View all Tim Noble and Sue Webster images available on Artimage
How to license an image 
To request an image, log in or register for an account.
Need help? Contact our team for expert guidance on finding the right image for your project. Email artimage@dacs.org.uk or call +44 (0) 20 7780 7550.
Images from top: Work. magazine Summer 2017 published by Haymarket Network, Photograph by Artimage; Back cover of Work. magazine Summer 2017, Image courtesy Haymarket Network.