Your installation, Sixty Minute Spectrum, is currently lighting up the Hayward Gallery's newly restored roof as a chromatic clock. Tell us more!
I was invited by Ralph Rugoff, Director of the Hayward Gallery, to have a conversation with him about doing something with the restored glass pyramids on the roof of the Hayward; to do something which would draw attention to it and show that it was waking up from its three year slumber. When the pyramids were being rebuilt, exactly as they had been before, they installed a new, programmable LED lighting system. 
This project lit up two months before the opening of the gallery and will continue until Easter. There's a lot of competition for colour and visuals in that environment – you've got the National Theatre on one side, which is always flooded, you've got the London Eye on the other side, which is now Coca-Cola red because they're the sponsors, and then you've got these big cranes between the Southbank Centre and Waterloo Station, which are also illuminated. 
I thought I'd do something which is very slow and that at any one moment would all be one solid colour, but as the title indicates, over the period of an hour, would move through the spectrum almost imperceptibly, through red, orange, yellow, green, blue, purple, back to red on the hour. I like the idea of putting a chromatic clock into the space of the city. And clocks, I've always thought, were one of the most interesting forms of public realm work from the last 150 years.
So, it's a kind of clock, it's colour, it's slow moving – it's also a countdown to the reopening of the gallery. It's all those things.
Why is it important for you to take on commissions of this kind?
Why is it important to do them? I depend so much on the studio as a place to work and to develop my work, but it's also good to be taken out of the studio and to be given a different kind of canvas to work on. The two roofs of the Hayward Gallery are a big canvas and it stretches you and turns your work into something slightly different. I've done quite a few public realm works over the years now and most of them have been temporary. I did a project at St Pancras Station which was up for six months. I also made a work for Platform For Art at Gloucester Road Underground Station. I like to put work where a very different range of people will see it – and if they don't like it, well, it's not going to be there for long, it's not too much of an imposition.
And people will either respond to it or they won't. Obviously, it's not within your ability to determine that but you often get interesting, different types of takes on things. I love London as a place to live and work, and I want to help make it the best city it can be, and the best way I can do that is through my work. I think the idea of a changing programme of public realm works is a thoughtful way of dealing with art in the city.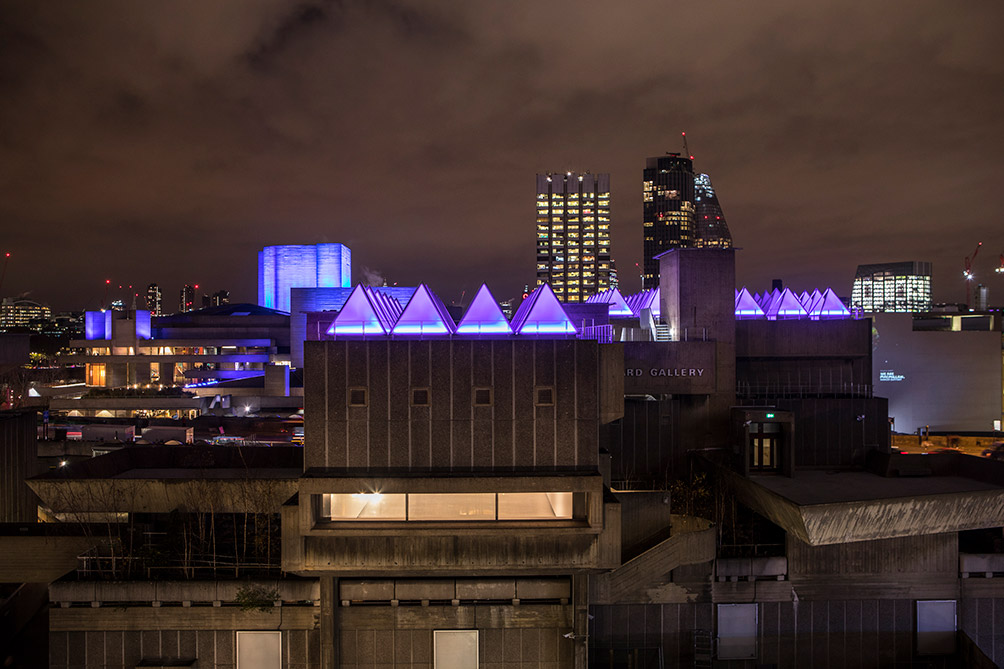 What was the process behind designing and making Sixty Minute Spectrum?
Well, it's very different from working in the studio, where I make something from start to finish. Sixty Minute Spectrum is programmable, so essentially when I described what I wanted to do to Ralph and his team, they approached White Light, that do large scale theatre lighting and illuminations, and have all the knowledge and technology to bring them to life. I then chose the hourly colour as red, because in Goethe's colour circle from 1810 it starts with red at the top. There was no logical colour to start with because the colour circle is a circle, as it were, but I just thought I would start with red.
And where is your favourite place to stand and view Sixty Minute Spectrum?
Waterloo Bridge is good, looking south, and from the river side of the Royal Festival Hall you can see it with the Festival Hall on the right-hand side and the Queen Elizabeth Hall on the left. Also from the back, from Belvedere Road, you can get quite a good look.
What's your impression of the newly refurbished Hayward Gallery?
I think it's brilliant. I've been going to the Hayward since I was a kid and, in a way, I think I know it as well as any gallery or museum in London. I've been going there for nearly fifty years.
They've spent three years very carefully taking the building back to its original state, cleaning the concrete and redoing the floors and restoring the two upper galleries, flooding them with natural light from the re-exposed pyramids. If you've known the galleries from before you will notice the difference: they look outstanding now. I think that they are two of the most beautiful galleries in London.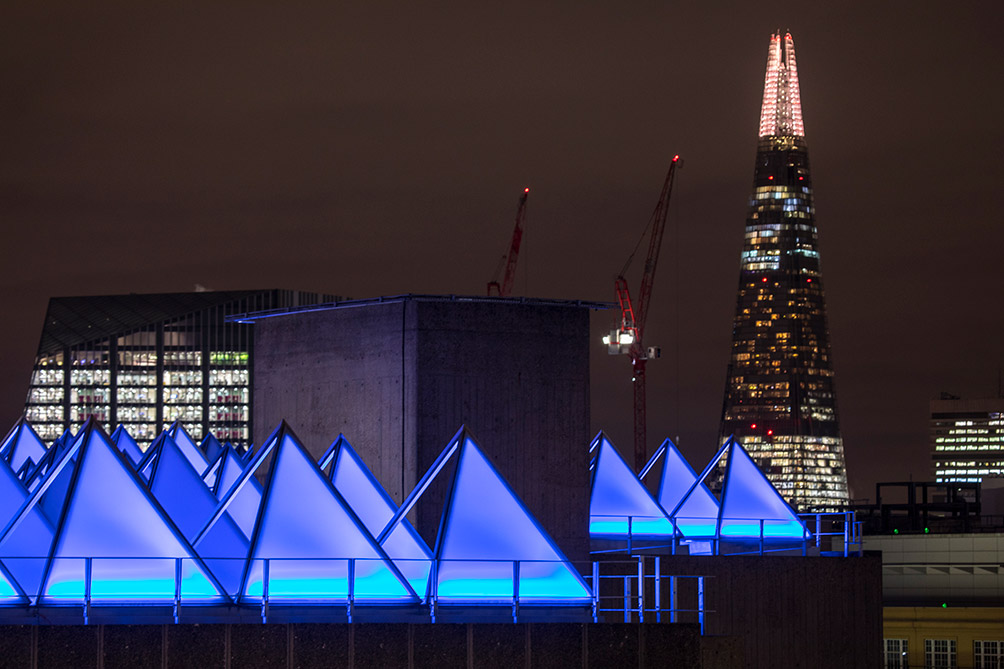 What do you see as the relationship between colour and urban environments?
Here's my favourite quotation from Walter Benjamin, written in 1927, "What, in the end, makes advertisements so superior to criticism?", and by "criticism", he means the work that he does, critical philosophy. And he says, "Not what the moving red neon says - but the fiery pool reflecting it in the asphalt". And the fiery pool reflecting in the asphalt is an extraordinarily precise focus on what happens in the city with colour. Most buildings are grey or steel or glass in a modern urban environment, so they're relatively neutral and colour is added, these days often by advertisements or by other forms of illumination. But what happens to that illumination is that it's reflected off every shiny surface and it escapes its container and that's what Benjamin, I think, is saying. It's not the red sign saying "Coca-Cola", it's what happens to that light and that colour as it leaves that space and shatters, refracts and rebounds through the city.
Practically, for me, a neutral urban environment is a fantastic backdrop for vivid colour. In a way, I try to rescue colour from its tie-up with commerce; to put colour in the city, colour for the sake of colour, not for the sake of Coca-Cola.
How do you believe we respond to colours?
Arguably, the first thing that babies experience, is colour. They have no concepts, so all they have is perception – the stuff that first pours in, are probably colour experiences. Gradually we learn language, we organise concepts, we shape the world in various ways, but as a lot of writers have suggested, from Aldous Huxley to Julia Kristeva, the experience of colour, particularly vivid glowing colour, is a trace memory of a moment from our infant lives that we no longer have access to.
The argument then goes, that as we grow up, language tends to cloud our perception in such a way that colours become duller. And I think a part of my interest is in trying to recover that moment of the vivid innocence of colour.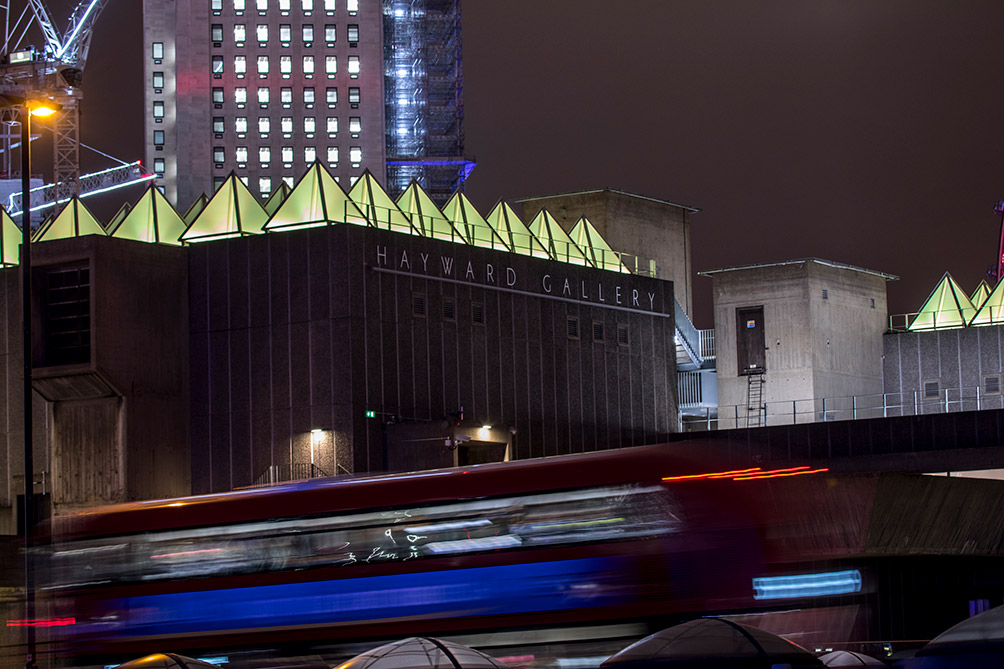 What made you decide to join Artimage and what do you value most about the service?
What made me join is I could see images of mine being used out there and not having any control over it or getting any benefit from it. I hoped that by joining Artimage it would help me – not exactly control it, but have some recourse. It also means I can divert people when they approach me for images, I can say "Get in touch with Artimage" and that just takes it out of my hands. Obviously, there are people at Artimage who know a great deal more about the legal side of things, so I don't have to worry about that much. When commercial companies want to use your work, I want to get paid, and Artimage is very helpful in that respect.
Tell us about some of your most recent projects and what's coming up next!
The most interesting thing I did last year was an exhibition in Tehran. It was one of the most enjoyable experiences I've had as an artist. I'm doing two shows in Melbourne, Australia, this coming year and I'm working on a couple of commissions at the moment, which are slightly undercover still, two in the UK and one in Canada.

With thanks to the Hayward Gallery and David Batchelor, for providing us with images and interview. You can find out more about Sixty Minute Spectrum here.
Artimage offers a consolidated source of David Batchelor images dating back to the 90s, bringing together his found object sculptural, light works, photographs and paintings. View the collection or browse more images below:


Festival Remix, 2006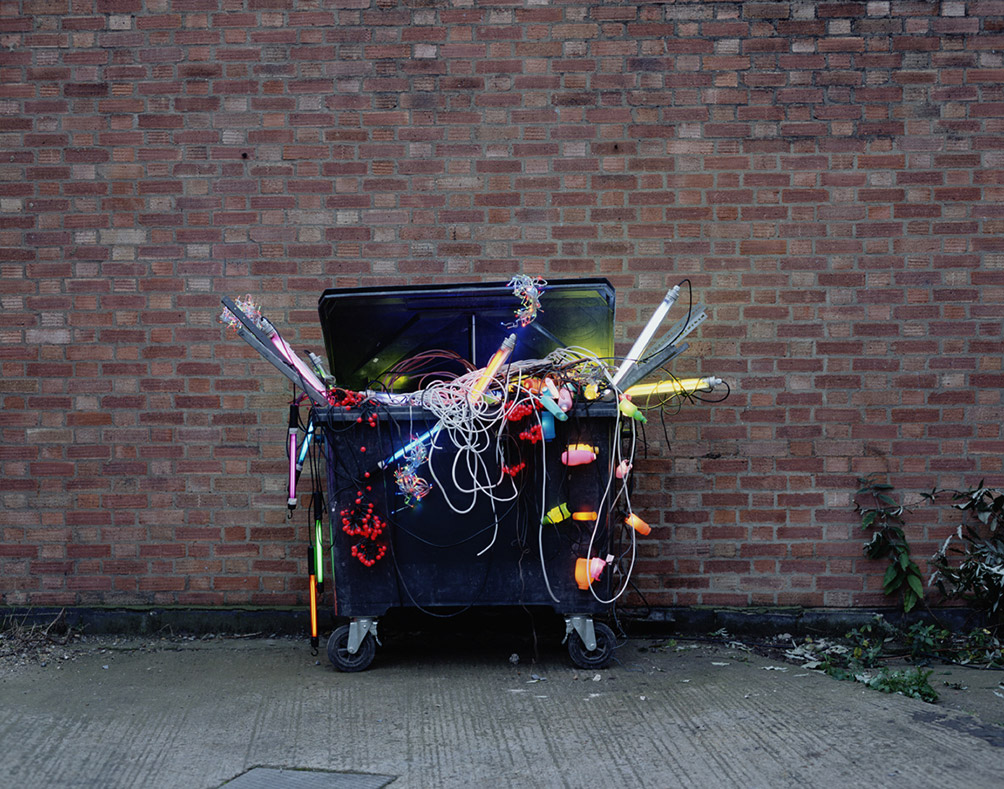 Disco Mecanique, 2008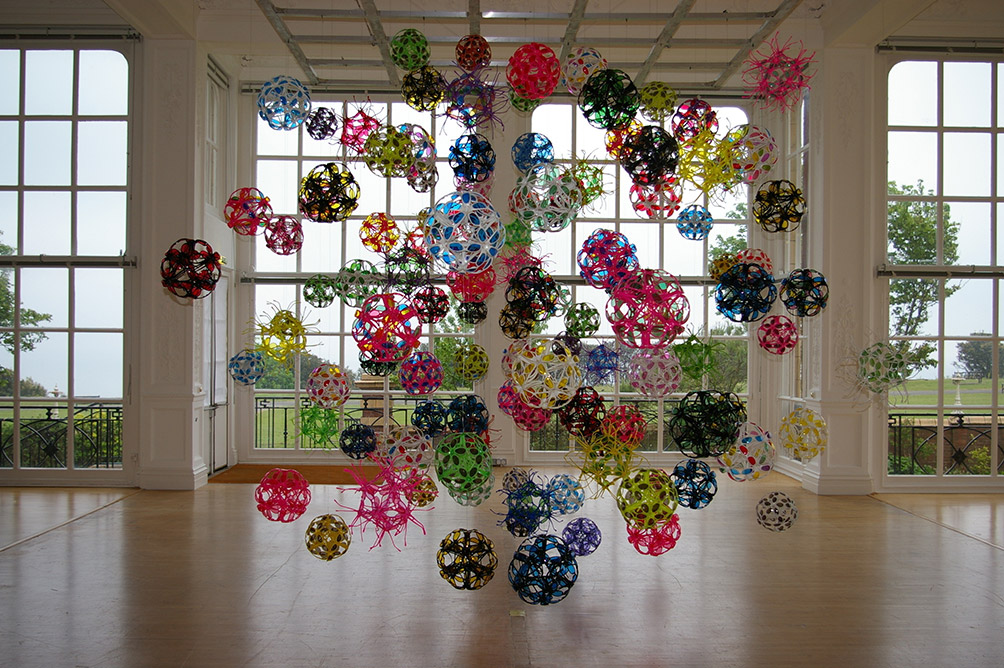 Spray Drawing, 2007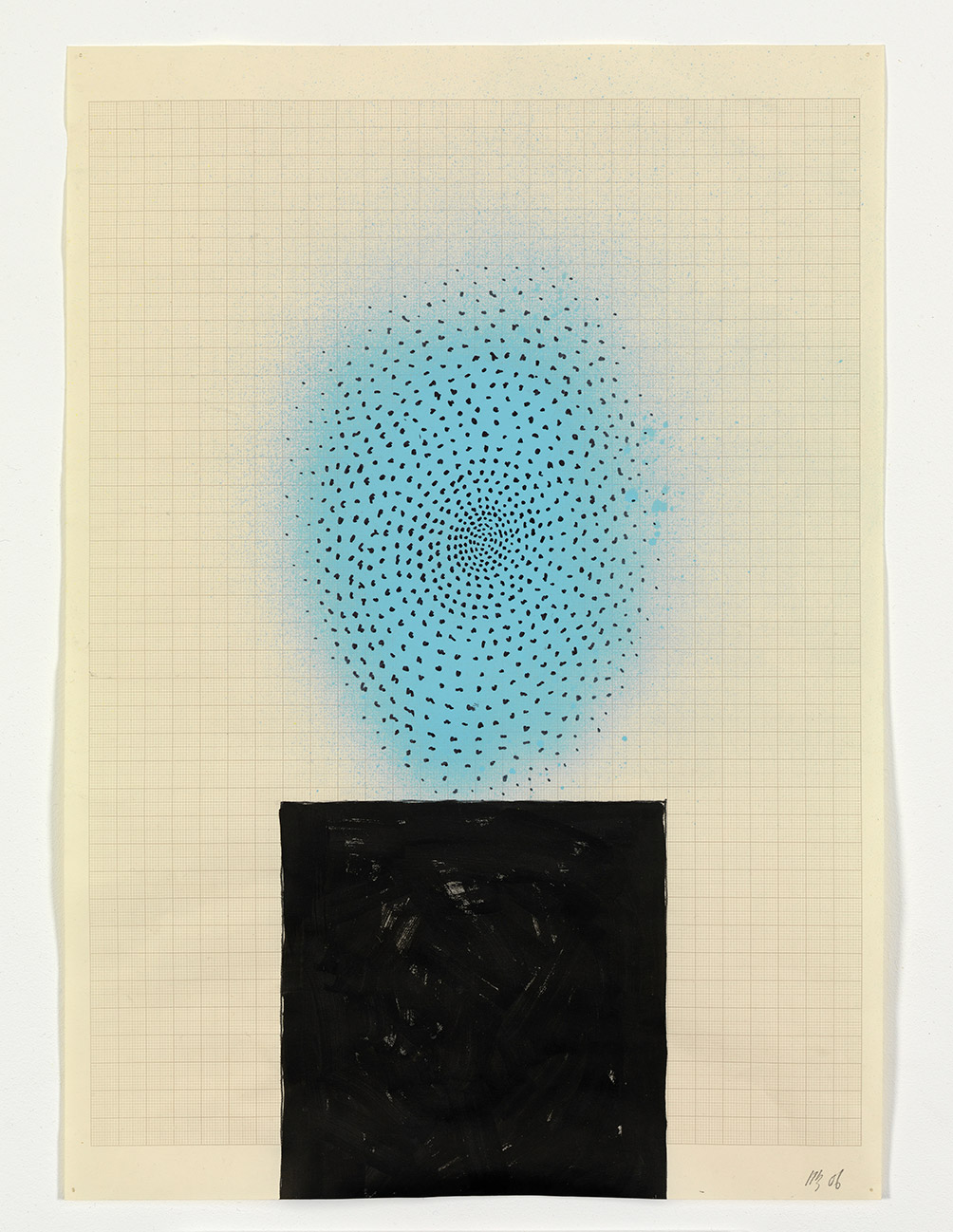 Blob drawing 10, 2002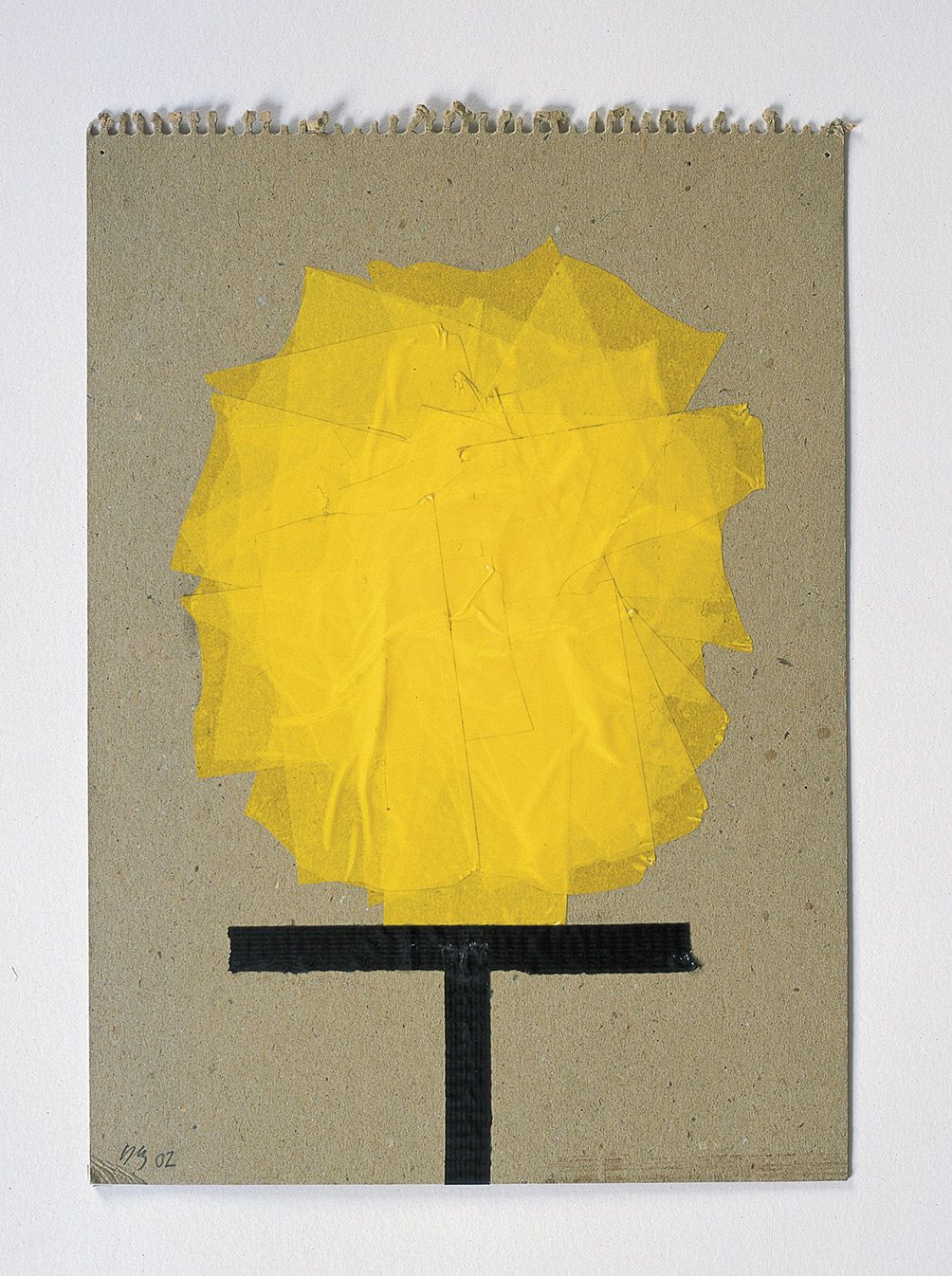 Backlights, 2008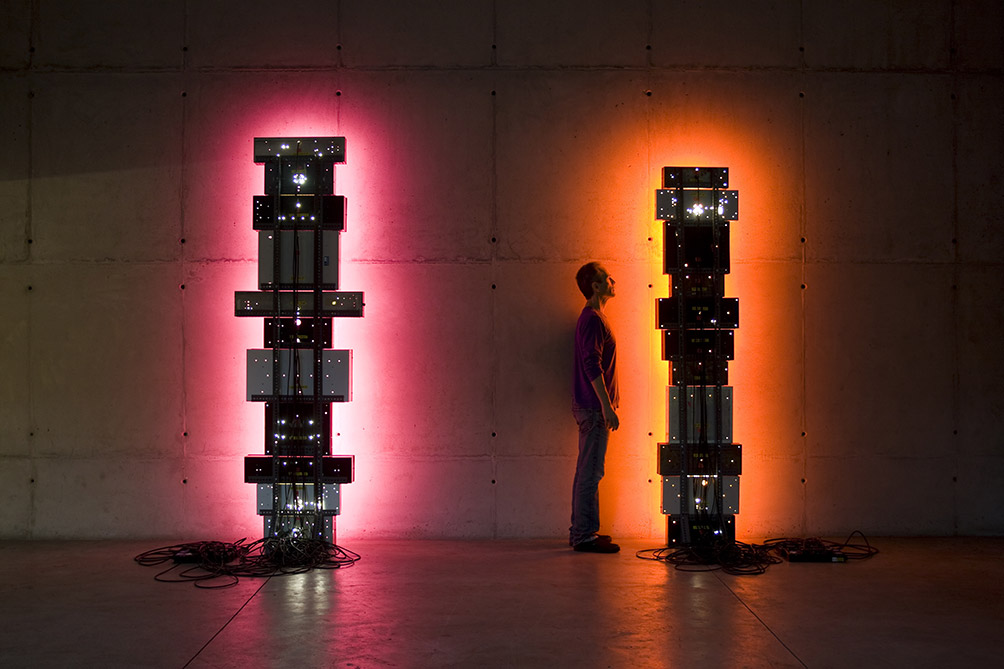 Related pages
How to license an image
To request an image, log in or register for an account.
Need help? Contact our team for expert guidance on finding the right image for your project. Email artimage@dacs.org.uk or call +44 (0) 20 7780 7550.


All four installation images are credited: Sixty Minute Spectrum, 2017 © David Batchelor, installation commissioned for Hayward Gallery, London. Photo: Victor Frankowski. Courtesy of the Southbank Centre. Following images: Festival Remix, 2006; Disco Mecanique, 2008; Spray drawing, 2007; Blob drawing 10, 2002; Backlights, 2008. All images © David Batchelor. All Rights Reserved, DACS/Artimage 2018.